Alaïa Lodge is the latest trendy lifestyle hub presented by the Alaïa Group in the heart of the Swiss Alps, in Crans-Montana.
Located in the very center of the world famous all-season resort in the Alps, within walking distance of its ski lifts and award-winning golf courses, the Lodge offers outdoor active and outdoor 
enthusiasts an ideal four-season Alpine base for all kinds of outdoor activities. It's a sport and lifestyle hub for all ages and interests, welcoming groups, families, or couples at the heart of the action.
Alaïa Lodge brings casual cool and modern touch to a traditional prime location in the Swiss Alps. This fully modernized and renovated Swiss Lodge combines a cool, minimalist industrial décor with ultra-hip interconnected facilities and a relaxed and friendly Valais charm.
The lodge welcomes young families, groups of friends, or couples on their mountain getaway. We are set up for casual gatherings, whether it's a movie night or après-ski drinks with friends. Our large, welcoming, multi-functional spaces provide a well-deserved rest and relaxation spot after a full day outdoors. 
Guests can take full advantage of the stylish and comfortable lounge to meet friends, lie back with a hot drink, or catch up on emails on our high-speed WiFi connection. In the evenings, why not have festive drinks at the bar and impress everyone around the table with the day's records on the slopes or up the most challenging hikes?
Mornings at Alaïa Lodge are for recharging batteries before a full day of adventure. We offer a sunny terrace and breakfast area with a range of Valais specialties, fresh fruits, hot drinks, and delicious pastries. All this is served in the modern, industrial chic bar, where everyone can mingle and prepare for another day of fun in Crans-Montana. 
Alaïa Lodge is an ideal hub for groups and camps as well, situated a stone's throw away from some of the best locations for ski and snowboarding schools, year-round mountain adventures, Étang Long beach and its surfing activities, and just about every other outdoor activity you can think of!
A Mountain Hub for All Seasons
001
All-season outdoor destinations
Crans-Montana is one of the best all-season outdoor destinations in Switzerland, offering generous year-round sunsine, an exceptional ski area, world-class facilities such as the only permanent Olympic half-pipe, fantastic hiking and mountain-biking routes… not to mention the surfing and wakeboarding center at the Étang Long. Alaïa Lodge guests are at the heart of it all: a 2-minute walk from the world-famous ski lifts, set off early in the morning to explore the 140 km of shimmering ski slopes, then stop at one of the many après-ski bars on your way back, before continuing the party at Alaïa's own bar! Winter dazzles in Crans-Montana with a wide range of sports to amaze all ages, from dog-sledding to cross-country skiing, ski touring, snowshoeing and more.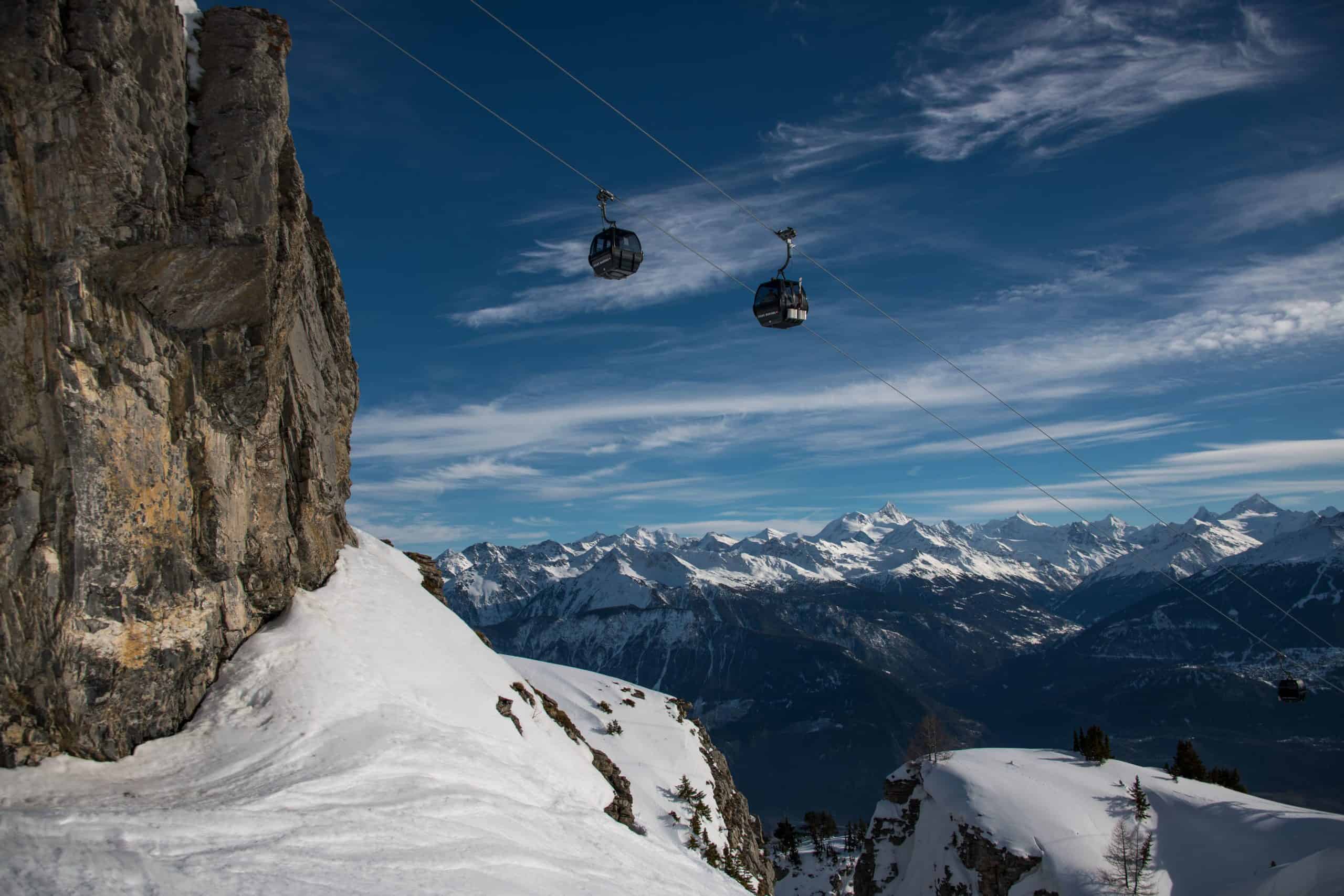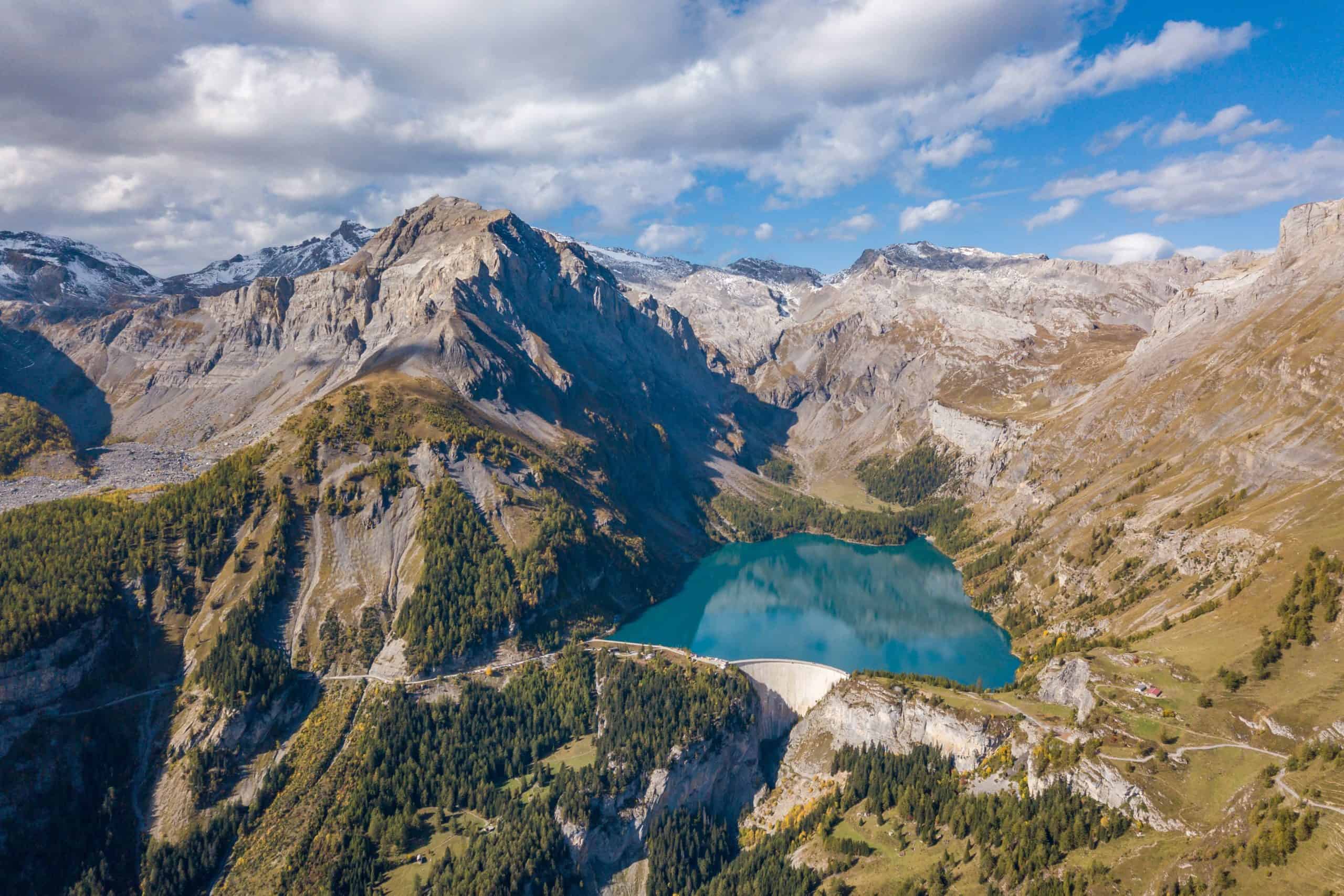 002
In the heart of Wallis
Move seamlessly from one season to the next thanks to Alaïa Lodge's excellent location in the Valais, where spring blossoms with a spectacular display of Alpine meadow flowers, children can chase Bibi the Marmot (the resort's mascot), and you quickly move to a multi-activity hub offering splendid golf courses (the Severiano Ballesteros Golf Course is one of the most beautiful 18-hole courses in the world and within 5 minutes of the lodge, while the 9-hole Jack Nicklaus course has been named the most beautiful in Switzerland four times), endless woodland trails, a volleyball court and so much more.
Alaïa guests have access to some of the most beautiful scenery as a  backdrop for their adventures: from trail running to hiking, mountain biking, and more, Crans-Montana's playground is ideally situated between 1500m altitude in the Rhône Valley and 3000m up the Plaine Morte Glacier. Whether you are learning to climb or cycling on one of the 200 km of roads, there is something for everyone. Families can compete on the mini golf course, sunbathe at the Beach Club on the Étang Long, and enjoy the Indian summer well into September when the harvesting begins in our generous woodlands. There really is no bad time of year to come and  visit Alaïa Lodge and Crans-Montana.